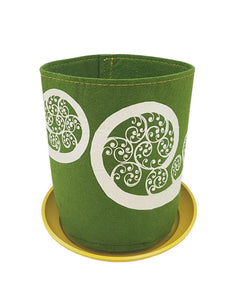 The grow bag is not only great for your plants, but it is also an ideal growing environment. It's also so easy to use - just put earth inside  and plant directly into the growbag, then place on top of the included 100% biodegradable plant fibre saucer.
The Ecofelt allows the plants roots to breathe, retains water and will allow for a gradal release of water. The growbags are also durable, washable, re-useable and  best of all, ecofriendly.
This bag is Green with a Fern Frond design.
The ecofelt material is 2mm thickness felt with coloured stitching detail and the included Saucer is made from 100% biodegradable plant fibre. The Saucer is 165mm in diameter and the Growbag is 140mm diameter x 160mm high.