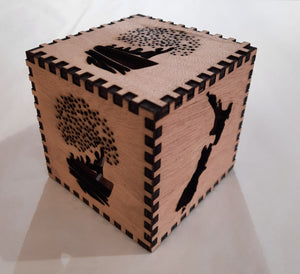 These light boxes show amazing shadow light and patterns around the room, avaliable in the NZ Map design with the Waitomo Glowworm Caves logo, each light box is supplied with a digital candle. Our default condle is timed, so that it comes on for 6 hours when switched on them is off for 18 hours to complete the 24 hour cycle.
This means it can be used as a child's night light, and there is no need to sneak back in to switch it off later. Tha batteries seem to last well and are easy to replace when needed.
*Please note - These are not designed for and should never be used with real flame candles. These are available as a flat pack product, everything included, except glue (recommend to use externl grade PVA wood glue) including instructions for putting them together.