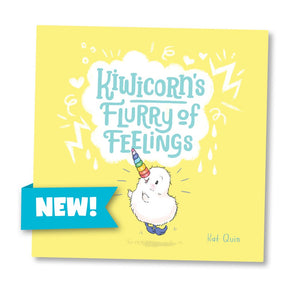 Kiwicorn has oodles of emotions.
A fickle flurry of feelings.
This story of resilience can help to convey the message that we all feel difficult feelings from time to time, but that recognising and letting go of those emotions can be the best feeling of them all.
Book #2 in the series, following on from the best-selling, internationally published 'Kiwicorn'
Kiwicorn's Flurry of Feelings
216 x 216mm
Matte Laminated Hard Cover
Stitch Perfect bound
Kiwicorn is a ridiculously adorable character promoting equality, and the importance of acceptance. Kiwicorn's lack of a pronoun can help to introduce children to the idea of gender diversity.
20c from each purchase is donated to Kiwis for Kiwi
Written and Illustrated by Kat Quin