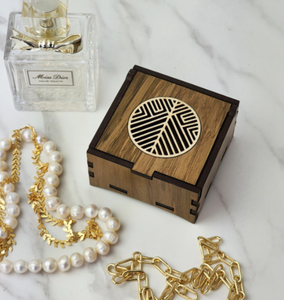 Unique piece of New Zealand history:
NZ Native Riverwood Timbers are recovered from the depths of NZ's rivers and creeks which were used as highways when transporting logs to sawmills in the late 1800's. During this process some of the logs sunk due to the heavy weight and remained submerged. Minerals absorbed from the river bed has also changed the original timber colour into a unique range of variable colours. Once milled and dried these timbers are then used to create this beautiful collection.
○ Riverwood Rimu veneer with Pine veneer Inlay.

○ Size: 80mm x 80mm x 40mm
○ Please keep out of direct sunlight as these products are made from reclaimed timber and your piece is 100 to 150+ years old.
○Due to being reclaimed river wood and the natural variations in colours every one of our products is truly unique, no two items  will ever be exactly the same.
Cleaning instructions: Wipe clean with a damp cloth and dry thoroughly with a soft cloth. Do not immerse in water.