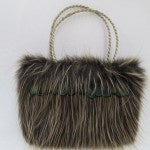 Kete Bag made from Roimata (Brown) faux fur fabric.
Row of beautiful green pheasant feathers on the front. Fully lined. Seagrass Handle. Great value product, very popular with local New Zealanders as well as a gift for people overseas
25cm wide x 18cm high
Internal measurement is 22cm wide and 15cm deep.
Made in New Zealand.
Some feathers used have been imported into New Zealand after disinfectant treatment, fumigated and cleared by the Ministry of Agriculture and Forestry. As New Zealand's import restrictions are the strictest in the world this product can be safely sent or taken into any other country in the world.