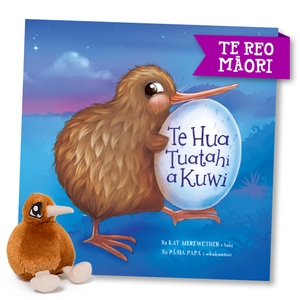 Te Hua Tuatahi a Kuwi - Te reo Māori translated version of Kuwi's First Egg + FREE little kuwi soft toy
Nā Kat Quin i tuhi
Written and Illustrated by Kat Quin (formerly Merewether)
Nā Pānia Papa i whakamāori
Translated by Pānia Papa
*PLUS for a limited time you receive a FREE little Kuwi soft toy (8cm tall).
20c from each purchase is donated to Kiwis for Kiwi
Te Hua Tuatahi a Kuwi - Kuwi's First Egg - NZ #1 Bestseller
230 x 230mm
36 pages of full colour
Matte Laminated Soft cover. Stitch Perfect bound.
Written and Illustrated by Kat Quin (Illustrated Publishing)
He kiwi ihupuku, he kiwi rangirua
hoki a Kuwi. Kua whanau mai tana
hua hou hei tiaki mana, i tana
kotahi. Kaore ano ia kia tiaki hua...
He paki ngahau, he paki
whakaaroha tenei ma te
kohungahunga.