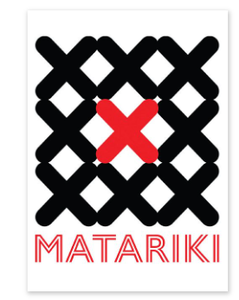 Printed by Live Wires using vegetable based inks on paper produced from certified and audited (WMF) Well Managed Forest plantations.
Comes with a white envelope. Does not come with cellophane.
Matariki is the name for the cluster of stars that signal the beginning of the Māori new year. The tukutuku design represents the nine stars of Matariki.
Size: 125 x 170mm
Made in New Zealand
Designed by Teresa Kenny
He uri ahau o Ngāti Mutunga o Wharekauri me Te Roroa